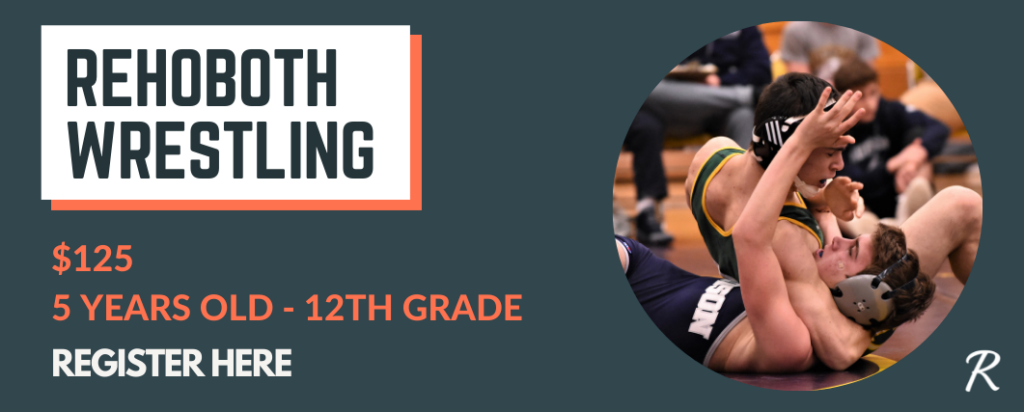 2021-2022 Wrestling (2021-2022 school year)

Registration Fee:  $125
The Rehoboth wrestling program is for boys ages 5 years old – 12th grade

Wrestling is widely considered to be the oldest sport in the world.  It develops mental and physical toughness in athletes like no other sport.  This mental and physical toughness carries over into every aspect of a participant's life.  Wrestling also teaches valuable self-defense skills that continue to benefit a participant throughout their lives, long after the youthful sport competitions are over.

Our program has three main goals:
Share Jesus with everyone in our community
Have fun!
Get better at wrestling
Registration fee includes:
Two 2-hour practices per week
Uniform top and bottom (we do not wear singlets!)
Additional costs not included:
Participants must pay for wrestling shoes (~$50)
USA Wrestling membership (~$40)
Head gear (~$30)
Fees for any tournaments participants enter (~$20 each)
Practices are on Mondays and Fridays from 6 PM to 8 PM.  During practice, kids wear shorts/sweat pants, t-shirt and wrestling shoes.  Our philosophy is to use techniques and get into situations best suited for our strengths; to avoid techniques and situations that expose our weaknesses.  We believe in teaching through progression: we probably won't be great at the start, but we will improve every time we step on the mat!

Important Dates:
12/3/21 (Friday) season starts – practices are Mondays and Fridays 6 PM to 8 PM
12/24/21 (Friday) no practice
1/9/2022 (Sunday) St. Francis Novice Tournament in Alpharetta, GA
1/15/22 (Saturday) picture day
1/22/22 (Saturday) Group outing to Rowdy Entertainment Wrestling
1/23/22 (Sunday) Peachtree Ridge Novice Tournament in Suwanee, GA
2/6/22 (Sunday) Life Novice Tournament in Marietta, GA
2/27/22 (Sunday) Novice Championship – location TBD
2/28/22 (Monday) Banquet / Awards Ceremony
Tournaments:
In addition to practices, we plan to participate in 4 novice tournaments (seeImportant Dates).  Novice tournaments are held on Sunday afternoons and are only for 1st & 2nd year wrestlers.  More experienced wrestlers compete in open tournaments which are held on Saturdays.  All tournaments are completely optional. Many kids choose not to wrestle in tournaments until their 2nd year. As a group, we will only be attending these 4 tournaments, however participants are welcome to join other tournaments on their own. All tournaments are done in partnership with USA Wrestling which requires a USA Wrestling Membership. Each participant has to be registered and paid for (~$20) prior to each tournament. No exceptions. On the day of the tournament, prior to starting, everyone entered will weigh-in to confirm their weight.  All participants are broken into groups by age and weight. Brackets showing wrestling matches will be posted just before the tournament starts. Participants usually get to wrestle in 2 – 5 matches each tournament depending on how well they do and how many kids are registered.  Medals are usually given out to the top three finishers in each age/weight division.  Tournaments can take several hours. In between matches, we cheer for our friends when they wrestle, do homework, eat snacks, play card games like Uno, play on the iPad, etc.

Coaching / Volunteers:
John Dye will be the lead wrestling coach with other volunteer coaches helping.  If you are interested in helping as a wrestling coach, please contact us.

Other Information:
Uniforms ordered on 12/13
No refunds after 12/13
Uniforms consist of shorts and compression shirt, we no longer wear singlets
All tournaments that we will attend are within a 30 minute drive of Rehoboth
No refereed matches will be held at Rehoboth, practices only
USA Wrestling membership also includes insurance and other benefits
**Schedules and dates are subject to change**

If you have any questions, reach out to our program director, John Dye at johndye@Rehoboth.org.