We hope you'll join us on Wednesday nights at Rehoboth!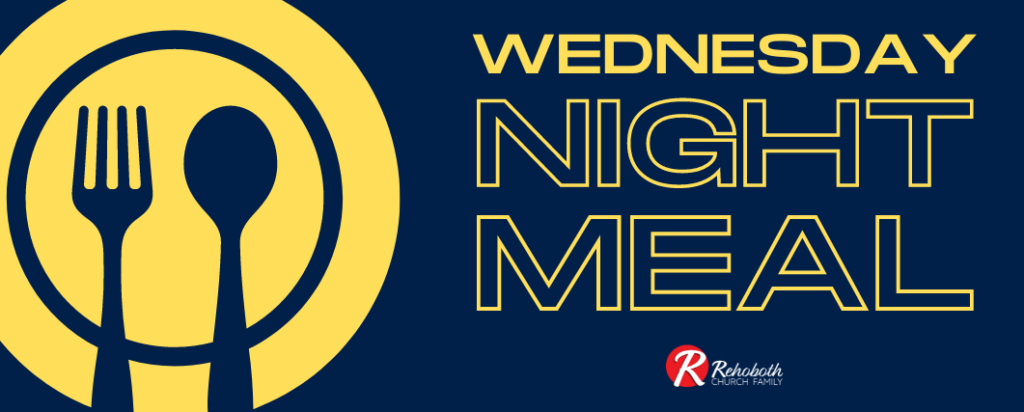 We gather in the Fellowship Hall beginning at 5:30PM for dinner. You can order a meal using the buttons below (or by calling Sherai at 770-939-3182) or you can bring your own meal with you. You MUST register by Tuesday of that week to receive a catered meal.
Rehoboth Kids
Preschoolers age 2 – kindergarten: Bible stories, crafts, and music.
Children 1st – 5th grade: Bible lessons, crafts, and games.
Nursery care for babies / toddlers will be provided for adults involved in Wednesday evening Bible studies.
Our Wednesday evening Bible stories for preschoolers will reinforce what the children are learning on Sunday mornings.
The children's lessons will also reinforce the Sunday lessons but will focus on the spiritual disciplines.
Rehoboth Students
Rehoboth Students will learn and grow together on Wednesday nights. Come to the gym from 4-6PM for games and activities. Then, at 6PM, come to the Student Suite for dinner! There will be games and activities, as well as Bible Study and discussions about important issues. All activities end at 8:00PM.
Revelation with Pastor Troy
In the first verse of Revelation 1, God tells us this last book in the Bible is the revelation of Jesus Christ. It is an important and often misunderstood part of the Bible and is as relevant today as it was when given to the seven churches to which it was written. Join Pastor Troy on Wednesday nights as we journey through this prophetic book that speaks about events to come while we watch for our King to return.