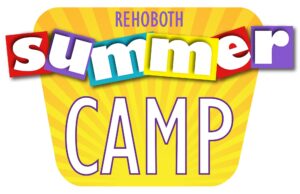 Our 2021 weekday summer camps are going to be a blast! We are excited to offer nine enriching and fun-filled weeks for your child:
Week 1: June 1-4
Summer Connection
To kick off summer, campers will make new connections and strengthen old ones. Campers will be engaged with fun-filled arts, crafts, ice-breakers, and team building activities.
Week 2: June 7-11
Vacation Bible School (VBS) & Summer Jam
Campers will join in on the fun with Rehoboth Kids' VBS in the mornings, then enjoy games and activities to grow their relationships with friends and God in the afternoons.
Week 3: June 14-18
Destinations Past and Future
Travel through time with themed days and activities from a different decade every day! Destinations are pending confirmation, but may include the Wild West, Medieval Times, a 50's Sock-Hop or even a groovy trip to the tie-dyed 60's.
Week 4: June 21-25
Camp Got Talent
Campers will spend this week exploring the world of song, dance and performance art. We will develop confidence and "stage presence", strengthen vocal skills, and learn choreography. Campers will also be exposed to the production aspect of musical theater by learning about staging and lighting. Our week-long musical endeavor will culminate in a performance on the last day.
Week 5: June 28 – July 2
Creation Carnival
This week will be filled with fun adventures for campers as they dive into a week exploring the world of Lego machines, 3-D figures and tons of cool activities that will spark imagination and creativity. Lego lovers will build until their hearts are content at this week-long day camp. Each day, your builder will get started with one of our Lego challenges where they will build a pictured item out of Legos. It is amazing to see the finished products! We will also offer time for your builder to dream, design and build their very own masterpieces.
Week 6: July 5-9
Spirit Week
A week to boost excitement and encourage harmony among students. The students will get a chance to dress up each day and to express their individuality and creativity.
Week 7: July 12-16
Great Escape
Campers will have fun in a real-life escape room just for kids. Escape rooms will challenge campers to develop problem-solving skills like nothing else.
Week 8: July 19-23
DIY Challenge
Campers will paint, decorate, hot glue, and cover things in sparkles at our first ever DIY camp! Campers will unleash their creativity in a wide variety of activities from collaging, drawing, sculpting, painting and more. We will be completing projects every day to take home.
Week 9: July 26-30
Mystery Week
Become a detective and solve a mystery! Campers will participate in scavenger hunts and figure out the hidden codes to unlock the riddles. Every day is a mystery, and anything can happen!
Ages:
Rising 1st grade (completing K in 2021) to rising 9th grade (completing 8th in 2021)
Rates:
$120/week with registration forms submitted AND registration fee ($80/child) paid by May 15.
Covers camp hours, 8:00 am – 5:00 pm
Sack lunch required each day
$150/week with registration forms submitted AND/OR registration fee ($80/child) paid after May 15.
Covers camp hours, 8:00 am – 5:00 pm
Sack lunch required each day
Registration
The registration form can be completed and emailed to schoolkids@rehoboth.org or printed and brought to the Preschool Academy office, Monday‐Friday, 9am‐4pm, 2997 Lawrenceville Hwy, Tucker, GA 30084. You may also mail the registration form to Rehoboth Preschool Academy, 2997 Lawrenceville Hwy, Tucker, GA 30084.
The full camp tuition for each month must be paid by the first of that month (June 1st and July 1st). There will be a 3% processing fee for credit card payments.
Please make checks or money orders payable to Rehoboth Preschool Academy. Your registration is not complete, and your child's spot is not secured, until you have submitted the registration fee of $80/child.
Spaces are limited!
Questions? Email schoolkids@rehoboth.org.
Click on one of the images below to register for VBS+ alone or for Camp All-American!