Sports & Recreation play an important role with our Rehoboth family and our community by providing Christ-centered sports and activities for all generations. With our outstanding facilities, sports and recreation activities run all year.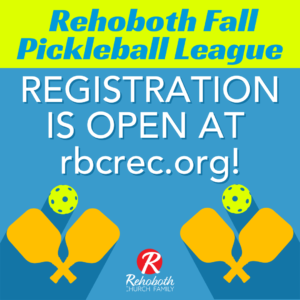 Rehoboth Summer Pickleball League
Registration is open for the Rehoboth Fall Pickleball League!
Matches will start on September 13! This is a co-ed doubles league, so teams can consist of 2 males, 2 females, or 1 male and 1 female.
Find more details and register at rbcrec.org. If you have any questions, please reach out to David Thompson at davidthompson@rehoboth.org.
Want to start something new?
From baseball, basketball, cheerleading, dodgeball, volleyball, and wellness classes, our leagues and events are open to everyone in our community.  Want to start a league or recreation activity? Looking for a place to host your sports or recreation event? Please contact us below. We'd love to talk with you.