If your fuel gauge is at three-quarters full, you don't usually stop at a gas station. But what do you do if your spiritual gas tank is three-quarters full? That's a different matter!
During March, the prayer of our Rehoboth Church Family will be Psalm 85:6,"Will you not revive us again, that your people may rejoice in you?" We desire that the Lord will enlarge our heart for him. We want more of him. We want to be full, not partially full.
Each Sunday in March will inspire you to want more of him, and our prayer is that you and all our church family will be revived.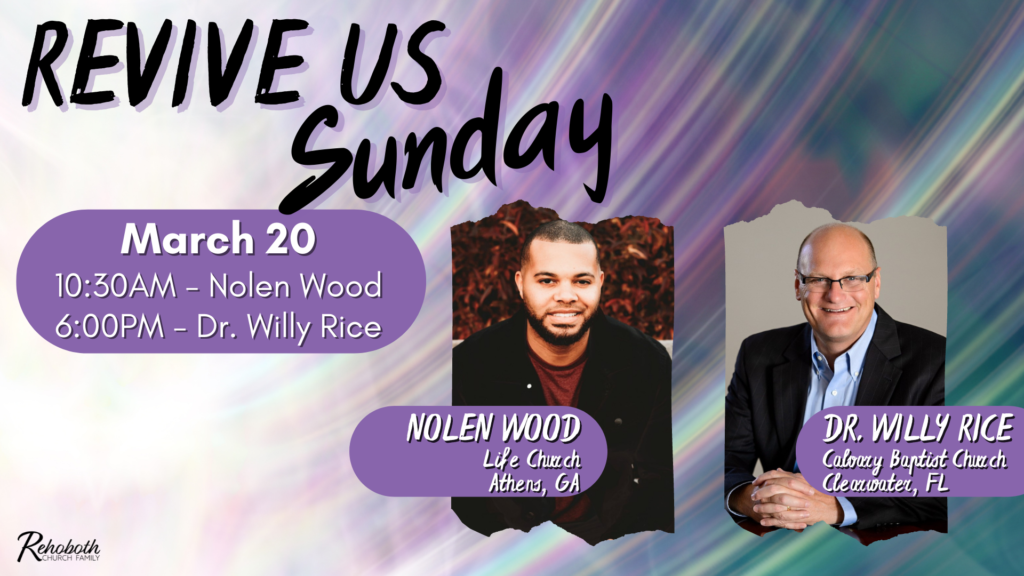 Plan to be with us on Sunday morning (10:30am) and Sunday evening (6:00pm), March 20, for a special day. Our worship music is always great, and we'll have music guests in both services. Nolen Wood, Lead Pastor Life Church Athens, GA, and Willy Rice, Senior Pastor Calvary Church, Clearwater, FL, will share powerful messages that you will want to be present to hear.
Pray. Pray that the Lord would enlarge our heart for him. Present. Be present each Sunday and in both services on March 20. Invite. Invite your family, friends, and neighbors.