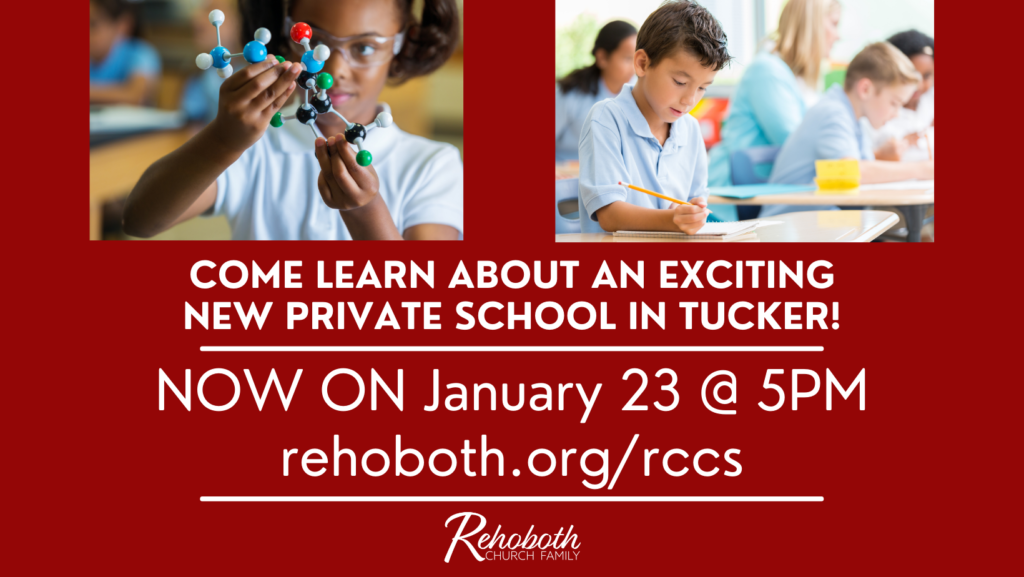 NOTE that we're rescheduling the interest meeting to Sunday, January 23, in light of the inclement weather forecast for this weekend.
Classical Christian education is growing in popularity. Today, the Association of Classical Christian Schools is among the largest associations of private Christian schools in the country, and the Rehoboth Classical Christian School is pursuing accreditation through ACCS.
A classical Christian education is characterized by:
A Christ-centered environment: Students learn in a distinctly Christian environment where they discover the richness of God's Word and his redemptive plan through Jesus Christ for all of creation.
Relationships: We want students to develop positive friendships that will enhance their growth and learning.
The Trivium: These three arts—grammar, logic, and rhetoric—are fundamental elements of learning and language study.
Integration of content: Integration reveals the unity of God's world, so CCE schools value integration of content like history, literature, science, math, composition, language, etc.
Focus: Classical schools focus students on learning fewer things well.
Good Teachers: A good teacher is first a Christian, then a scholar, then a teacher. Teachers of young students (K-6) are nurturers, but should also be scholars and learners. The level of scholarship required for the teacher increases in the secondary.
Imitation and practice: We teach many skills and habits as they form in students during their school years. First we teach habits as a form, then through imitation, and then through repeated practice toward mastery.
Recitation: Memory work such as great oratory, poetry, and virtue sayings are trained through recitation in grammar school and beyond. These advance the student's vocabulary and aesthetic, and embed virtuous ideas.
Socratic discussion: We train students in the art of reason and argument through dialog (often around a table). Students challenge ideas and work from the greatest literary sources under the guidance and mediation of the teacher.
Assessment: Our goal is to assess humanely, not mechanically. Our assessment recognizes that ideas, understanding, and thought are more important than mere information.
Your whole family is welcome! Childcare is available for ages 1-5.
Please RSVP childcare to RCCS@rehoboth.org.
Rehoboth Classical Christian School is now accepting applications for teachers. Email your resume or questions to Dr. Mollita Clark at mollitaclark@rehoboth.org.