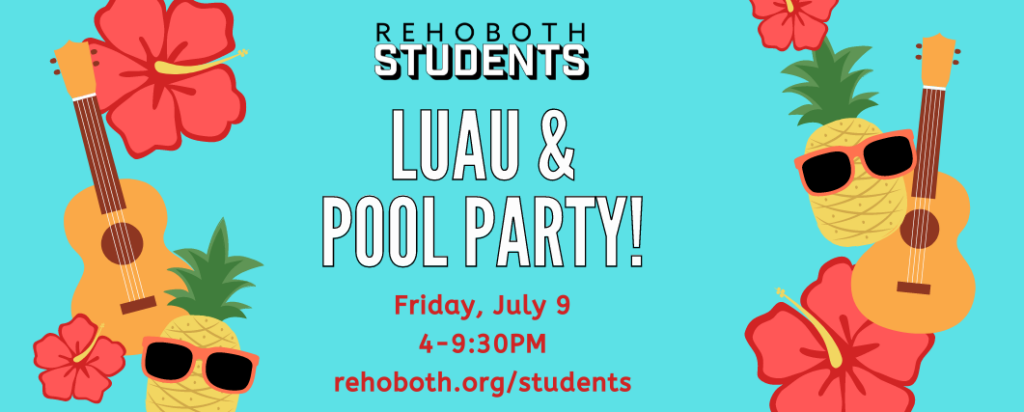 Do you love a good luau? Is a pool your favorite place to chill in the summer? We've got you covered! Come to Rehoboth Students' luau & pool party on Friday, July 9, from 4:00 to 9:30PM! Email davidthompson@rehoboth.org to RSVP and get the address/directions!

Here at Rehoboth, our one thing is to invite others to follow Jesus, discipling them to mature and multiply. Middle school and high school are an important season in students' lives. Lots of challenges and questions are faced; it is a season where the hope of Christ is greatly needed. Our student ministry exists to specifically invite middle schoolers and high schoolers to follow Jesus, discipling them to mature and multiply
We offer regular opportunities to connect:
On Sunday mornings from 9:15-10:15, we gather to study the Bible together through a short teaching and discussion groups. You can join us virtually or in person.
Twice a month, on the second and fourth Wednesdays, we meet in David and Katie's backyard for food and games.
Throughout the week, we offer various small group Bible studies for students to be a part of.
Middle and high schoolers are invited to meet up at the gym for basketball on Tuesday nights from 7-9PM. Come early at 6PM for dinner and a Bible study in David and Katie's backyard!
If you have further questions, feel free to contact David Thompson (davidthompson@rehoboth.org).