Here at Rehoboth, our one thing is to invite others to follow Jesus, discipling them to mature and multiply. Middle school and high school are an important season in students' lives. Lots of challenges and questions are faced; it is a season where the hope of Christ is greatly needed. Our student ministry exists to specifically invite middle schoolers and high schoolers to follow Jesus, discipling them to mature and multiply
We offer regular opportunities to connect:
On Sunday mornings from 9:15-10:15, we gather to study the Bible together through a short teaching and discussion groups. You can join us virtually or in person.
On Wednesdays, Rehoboth Students gather from 4-8PM to RECHARGE!

4-6PM — come to the gym for games and fun
6-8PM — come to the Student Suite for dinner, Bible study, and games
If you have further questions, feel free to contact David Thompson (davidthompson@rehoboth.org).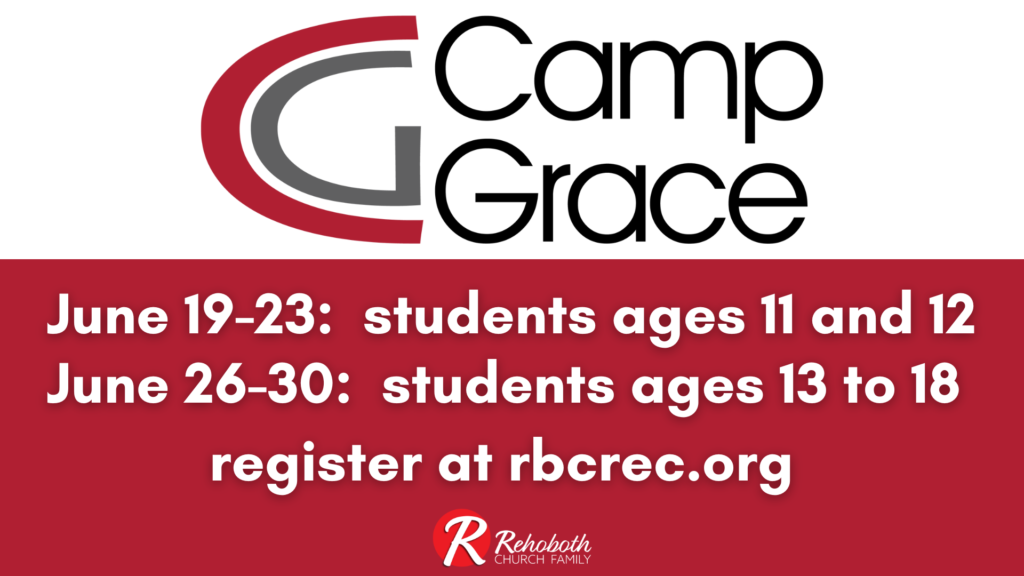 We are so excited about taking our Rehoboth Students to Camp Grace in Roberta, GA this summer!
Camp Grace is an overnight camp that is a two hour drive south of Atlanta. You can learn more about the camp at thecampgrace.com.
**PLEASE NOTE THERE ARE DIFFERENT CAMP DATES BASED ON YOUR CHILD'S AGE:
If your child is 11-12 on May 29th, 2023, he or she will be going to camp June 19th-23rd
If your child is 13-18, he or she will be going to camp June 26th-30th
Because of a very generous donation, this 5-day, overnight camp is only $30 per camper. Your spot is not booked until you have registered and paid. Please know that for your child to come to camp, he or she must adhere to our set expectations. Those expectations are that he or she will join us for Sunday morning worship 4 times before we leave for camp, that both the camper and a guardian will attend 2 pre-camp meetings that will happen right after the worship service at 12 o'clock on a Sunday, that the camper will respect the authority of our camp leaders and abide by the rules set out by Camp Grace. If you have any questions, please reach out to David Thompson at davidthompson@rehoboth.org.