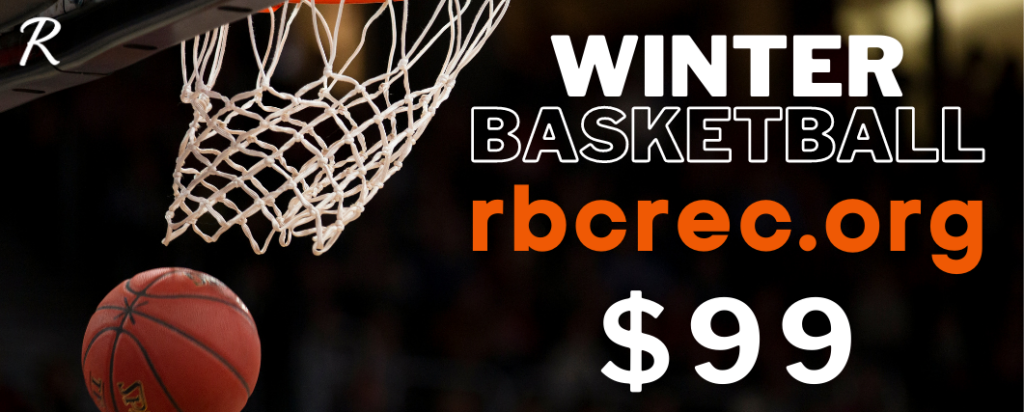 2021-2022 Basketball (2021-2022 school year)

$99 DISCOUNTED REGISTRATION FEE

Rehoboth's winter basketball leagues are for boys and girls ages 5 years old — 12th grade (2021-2022 school year). Our league's three main goals are to (1) share Jesus with everyone in our community; (2) have fun; and (3) get better at basketball. Each participant registered after the first participant in a family will receive a $25 discount each, during regular registration. Registration fee includes jerseys, shorts, wristbands, skills camp, minimum 10 game season including playoffs/championship, flexible amounts of practice time to satisfy every skill level (2-5 hours/week), and an end of season award and banquet!

Divisions are named as follows: 6U (ages 5 & 6), 8U (ages 7 & 8), 10U (ages 9 & 10), 12U (ages 11 & 12), Middle School, and High School. Middle Schoolers (12 + over) can choose their division (Middle School division is more competitive than 12U).

GAME SCHEDULE & PRACTICES
Practices and games will be on Tuesdays, Thursdays and/or Saturdays starting 12/7/21. Final schedule will be posted after teams are formed.
Teams are to be set by after we do in-person evaluations on 12/4 (this is not mandatory, but helps us put evenly competitive teams together).
First game for divisions 6U – 12U will be on Saturday, 1/8/22. First game for Middle & High school players is TBD but expected to be 12/18/21.
LOCATION NOTE: Half of the 6U – 12U games may be played at either the Tucker Rec. Gym or the Doraville Gym (both gyms are about a 10 minute drive from Rehoboth). All Middle School and High School division games will be played at Dekalb County gyms located near Rehoboth.
TEAM AND COACH SELECTION
Teams will be named after NBA franchises and uniforms will have the same colors and logos as those teams. Teams will be evenly balanced as to promote fair competition. We are not able to honor requests for a Participant to be placed on a certain team or with a certain coach. A coach, however, may request to have their child(ren) on his/her team in that age division. Sisters or brothers in the same division may be placed on the same team if requested.
If you are interested in coaching, please email us at rbcrec@rehoboth.org. All coaches must pass a background check. Deadline for coaching applications / certification requirements due: 12/4

SKILLS CAMPS:
All players registered for the league are invited to both camps!
Tuesday 11/30 and Thursday 12/2
Players will attend during their allotted division time
6pm – 6U (ages 5 & 6) and 8U (ages 7 & 8)
7pm – 10U (ages 9 & 10) and 12U (ages 11 & 12)
8pm – Middle and High School
IN-PERSON EVALUATIONS (12/4):
Evaluations are not mandatory, but helps us put evenly competitive teams together.
10am – 6U (ages 5 & 6)
11am – 8U (ages 7 & 8)
12pm – 10U (ages 9 & 10)
1pm – 12U (ages 11 & 12)
2pm – Middle School
3pm – High School
OTHER
No refunds after 12/4/21
Banquet/awards ceremony will be Sunday 2/27/21
Every Sunday, Rehoboth has youth gym time after our 10:30 worship service (it even includes free lunch!). No invite or RSVP necessary, just come have fun with us.
**Schedules and dates are subject to change**

If you have any questions, reach out to our program director, John Dye at johndye@Rehoboth.org; or the sports and fitness assistant, Sarah Chaney at sarahchaney@rehoboth.org.